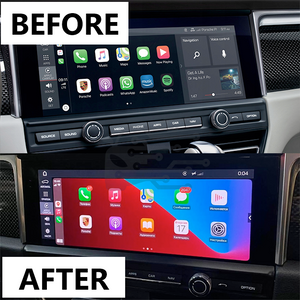 Remote activation of full-screen Apple Carplay on your PORSCHE PCM 5.0 SCREEN via a USB key coded to your chassis number and an online technician.
Enjoy full-screen Apple Carplay by always using your favorite applications on your home screen, thanks to Carplay.
Waze, Coyote, Siri, Google Maps, Plans, Apple Music, Spotify or Deezer…, access all this easily from your car's dashboard with the Apple Carplay option. You can even make calls, send and receive messages from your Carplay while driving.
The latest generation of PORSCHE touchscreen GPS units feature a large touchscreen.
Package contents:
_ 1 SD card
_ 1 USB key
_ 1 USB-ETHERNET adapter

Simple remote installation, our technicians take care of everything.
To see the procedure, please consult our article.

In addition, we'll send you the Carplay protocol in relation to the VIN number you provide.
The VIN is the vehicle's serial number (box E. on your vehicle registration document).

FREE shipping!!!