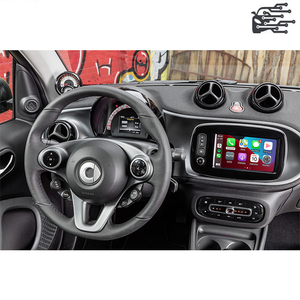 ⭐ 2 years warranty
⭐ Great customer service
⭐ Worldwide free shipping
Apple Carplay module for Smart
Don't change your ways, use your preferred applications on your original screen with Carplay.
Waze, Coyote, Siri, Google Maps, Plans, Apple Music, Spotify or Deezer ..., access it all easily from the dashboard of your car with this Smart Apple Carplay module. It's even possible to make calls, send or receive messages from your Apple Carplay module while driving...Steering wheel controls are compatible!
➦
Use your SMART touch screen to navigate the Carplay menu
.
Connect your 
iphone
 wirelessly so that the screen switches to iphone mode
.
Compatible models:
_ Smart ForTwo from 2014 to 2020
_ Smart ForFour from 2014 to 2020
_ Smart Cabrio from 2014 to 2020
_ Smart Brabus from 2016 to 2020
Our modules are compatible:
Fully compatible with the car, this Smart Apple Carplay module installs quickly and easily.
This module will integrate perfectly into your vehicle as if it were equipped with the original Carplay option. The installation of the device is done simply by plugging the connectors with those of your vehicle. It is preferable to go through a professional for the installation because it is necessary to open the station to install Carplay.
In addition, we will send you the Carplay module in relation to your VIN number that you provide us.
The VIN is the serial number of the vehicle (box E. of your car registration).
NB: Module that also allows the installation of the backup camera.
FREE SHIPPING!!!